San Giovanni Evangelista
Waiting for a New Role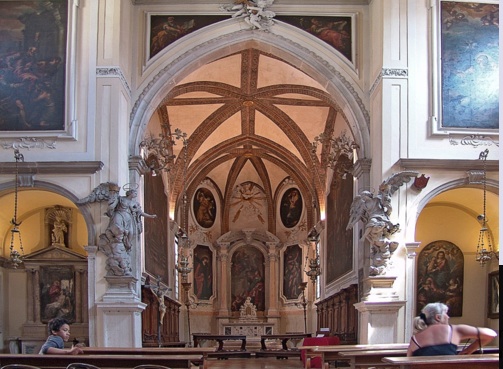 The church of the Scuola Grande di San Giovanni Evangelista has had a varied history. Founded (according to tradition) in 970 by the Badoer family, it was reworked several times over the centuries, notably in 1759 by Bernardino Maccaruzzi, and then again in the 19th Century.
Between the church and scuola, the marble screen, topped with St John the Evangelist's eagle symbol, was sculpted by Pietro Lombardo in the 1480s; there is a mild Tintoretto Crucifixion to the right of the altar and a famous organ from 1760, as well as tombs of the Badoer family.
For a while in the 1990s the church ran a sort of cultural exchange programme involving tourists and Venetian stray animals. The church was also the local headquarters for the cause of Kaiser Karl I, an international effort to transform the last of the Austrian emperors into a saint; Karl was beatified in 2004. Until 2016 it was used for Baroque concerts by the Venice Music Project, but they've since moved to the city's Anglican church, St George.
Hours Church generally open Mon- Fri 9.30am-12.30pm.
Campiello della Scuola
vaporetto San Tomà