Museo di Palazzo Poggi
Art and Science, Bologna-style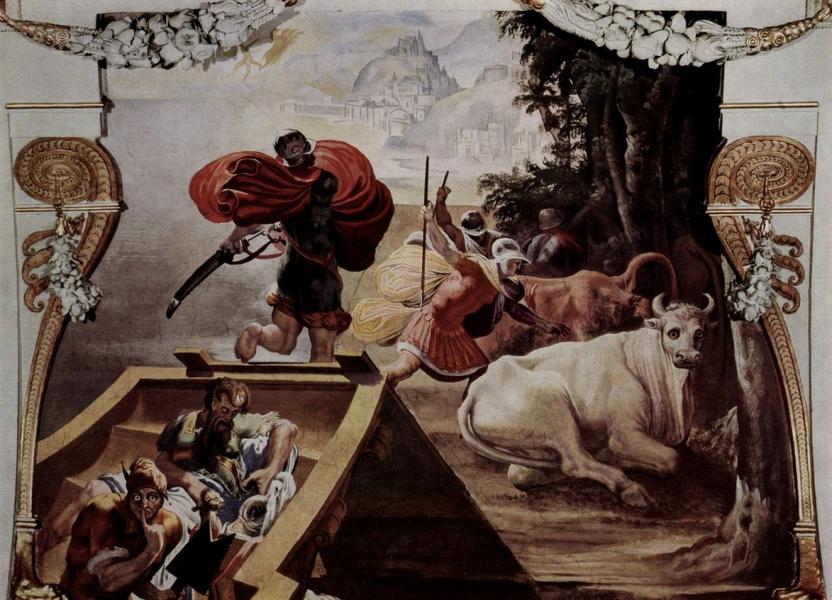 The University puts on a dazzling display of art and science in its former home, Palazzo Poggi (1549-60, though some parts are a century older). One of the grandest palaces in Bologna, is the work of Bartolomeo Triachini and completed just when family boss Giovanni Poggi was made cardinal nuncio to Spain, the pope's ambassador to Emperor Charles V. His position supplied the cash to make the Poggi digs into a showcase of late Renaissance Mannerist art, hiring two of the best artists of the day, Pellegrino Tibaldi and Nicolò dell'Abate.
Poggi's tastes tended more towards mythology and Renaissance humanism than religious themes. The cardinal's ground floor studio is adorned with Pellegrino Tibaldi's witty frescoes on the Story of Ulysses (1549), an early and influential example of Mannerist illusionistic quadratura ceiling painting that was closely studied by the students of the Carracci Academy and inspired Annibale's great fresco cycle in the Palazzo Farnese in Rome. Elegant scenes of banqueting and concerts by Nicolò dell'Abate, and others on religious themes by Prospero Fontana adorn the piano nobile, or first floor.
The Istituto delle Scienze and University
In 1712, the Palazzo Poggi became the home of the Istituto delle Scienze, founded by Count Luigi Ferdinando Marsili (1658-1730) with the hope of bringing the new empirical sciences of the day into Bologna and breathing some life into a University that was growing mouldy under papal rule. In fairness, the Church fully supported the effort, especially after Prospero Lambertini of Bologna became Pope Benedict XIV.
Laboratories and workshops were installed in the lavishly frescoed rooms. Additions included a 17th-century Wunderkammer (Cabinet of Curiosities) created by Ferdinando Cospi and the natural history collections accumulated by Ulisse Aldrovandi (1522-1605). A new library wing was built, and for the astronomers Marsili added the adjacent observation tower, the Torre della Specola, now the Museum of Astronomy.
In 1803, the Palazzo Poggi became the seat of the University of Bologna under Napoleon's men, who worried that students could always cause trouble and that their former base, the Archiginnasio, was too central. And they've been here ever since.
Today many of the University's science collections, inherited from the Istituto delle Scienze are open to the public after a major revamp, designed to recreate the spirit of the collections in the time of Luigi Marsili.
Natural History
The first room houses what remains of the fabled 'Microcosm of Nature'—the natural history collections that once filled the home of the Father of Modern Natural History, Ulisse Aldrovandi.
Next are the Sala di Davide and Sala di Mosè with frescoes by Prospero Fontana, the first housing contains minerals and other specimens that Marsili, who was a soldier and diplomat before he left the busy world behind for scholarship, collected during his travels around Europe. The second holds the Istitute's Museum Diluvianum, housing fossils that for centuries were set up as proof of the Biblical flood.
The Sala di Susanna, also here, has more frescoes by Tibaldi and is used for special exhibitions.
Anatomy and Obstetrics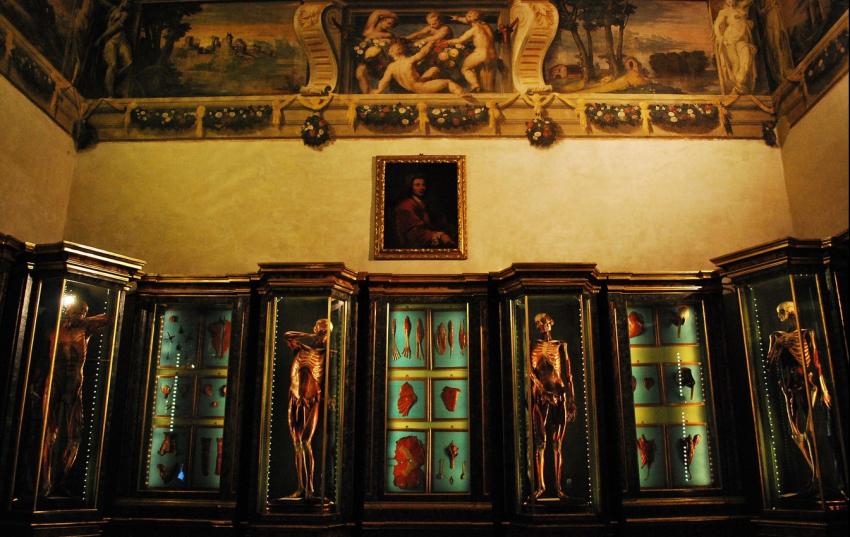 Nicolò dell'Abate's charming frescoes adorn the next four rooms, now dedicated to the Anatomy and Obstetrics, and weirdly compelling rooms they are, too. This starts in the Sala di Camilla with scenes from Virgil's Aeneid (above), while below are models and equipment from the School of Obstetrics founded by surgery professor Giovanni Antonio Galli in the 18th century to instruct doctors and midwives.
Bologna was the first medical school to make use of wax anatomical models. In the Sala dei paesaggi decorated with eight charming imaginary landscapes, houses wax 'flayed' figures (ecorches) by Ercole Lelli (1702-1766), one of the leading anatomical artists of his day, who used human skeletons as the base (with papal permission, of course).
Lelli taught his craft to Giovanni Manzolini (1700-1755), who in turn taught his wife, Anna Morandi (1714-1774),a remarkable wax artist and perhaps the world's first female professor of anatomy. Among their waxworks in the Sala dei concerti e delle fatiche di Ercole, adorned with delightful scenes of courtly life interspersed with the Labours of Hercules is one of the most surprising things you'll see in Bologna: Anna Morandi's portrait of her husband and of herself, dressed up for a fancy ball while dissecting a brain.
The Camerino dei putti vendemmiatori, named after its pictures of grape-harvesting cherubs houses the disturbing, fascinating 'La Venerina', the masterpiece of Clemente Susini (1754-1814) made between 1780-1782 in Florence. Susini is considered the greatest of all anatomical artists: a sensuous, reclining, naked, pregnant young woman, surrendering to death, but split wide open with removable organs is a purposefully disturbing and fascinating example of early sensitivity training.
For more waxworks, head to the Museo di Cere Anatomiche.
Light and Optics
The Sala dello zodiaco e delle stagioni decorated by Prospero Fontana is dedicated to early optical and other equipment, including lenses and moulds. It also has a model based on Giambattista Pittoni and Domenico and Giuseppe Valeriani's Allegorical Monument to Sir Isaac Newton in Cambridge's Fitzwilliam Museum that shows Newton performing his optical experiment with a prism. Bologna's physicists performed their own experiments on Newton's theories in this very room.
The Sala dei telamoni has partly damaged frescoes of telemons and landscapes with ruins by Prosper Fonatana. Exhibits here are dedicated to Electrical Physics, and in particular the work of the Bolognese physicist Luigi Galvani(1737-1798) whose experiments paved the way for the studies of electromagnetism and neurophysiology.
Military Architecture, Geography and Navigation
These rooms (without frescoes) are dedicated to military science, geography and navigation, subjects dear to the heart and career of Luigi Marsili. There are paintings of his proudest moments (between 1682 and 1704 he fought in the service of Emperor Leopold I of Habsburg), models of cannons and fortifications and other instruments dedicated to the study of geometry, mechanics and ballistics for advances in artillery. Among the 18th-century models of warships is an impressive one 3m high, and maps, globes and navigational instruments that originally formed part of the Istituto delle Scienze, as well as the Institute's Library, which has been in operation since 1724.
And at the end, a change of pace: a room of East Asian Art with beautiful Japanese woodcuts, Chinese and Japanese paintings, and works in porcelain and ivory.
Via Zamboni 33
Hours Tues-Fri 10am-4pm, Sat & Sun 10.30am-5.30pm.
Adm €5, €3 ages 6-26 and over 65; free under 6.
+39 051 209 9610