About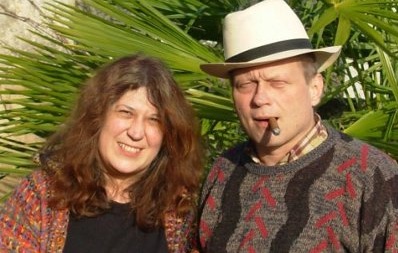 We started writing about Italy back in 1981, and fell victim to the charms of Italian food almost immediately. It was in fact three grilled triglie, on a plain white plate in an outdoor trattoria next to the train tracks in Siracusa, that convinced two young American writers that food could be, should be, must be something more than just a utilitarian pit stop.
A few years after that, while we were living in Umbria and travelling all over the country researching guidebooks, we discovered with delight—and occasionally horror—the vast range of regional specialities up and down the Big Boot. Wonderful to behold at dinnertime, but eternal mad confusion when you have to write about them.
For reference, we started keeping a list of the dishes and ingredients we encountered on our travels, and over the years it got longer and longer. Italian cooking was changing, old dishes falling out of fashion and new ones coming in. The Slow Food movement began while we were there, which led (among other things) to a revival of local treasures on the verge of disappearing.
Were any of these words in any Italian-English dictionary or food book? No, they weren't. Our list continued to grow, eventually extending to over 70 pages. That was the basis for this app. We can't say it is absolutely comprehensive. The endlessly clever Italians might well be coming up with new delights faster than we can record them. But it's more complete than anything else out there.
Using this app
Use the search function to find any of the 7000 plus words in this app. If you're just browsing, there are two places to look for words: either under region or type of food. In addition, there are four lists of general, obscure and dialect terms, arranged alphabetically.
We've also included special lists that cover cookware and tableware words (especially useful if you're self-catering) and cuts of meat (beef, pork, lamb and poultry), notes on Italy's regions and regional specialities and vegetarians and food intolerances/allergies. There are also entries on Italian bar words and customs and restaurant words and customs.
People with no knowledge of Italian can easily get tricked by different forms of a word, as with plurals (stinchi, the plural of stinco) or diminutives. We've provided a five minute grammar lesson that we hope makes everything clear. There's also a pronunciation guide that includes the mysteries of some of the major dialects.
Who are we?
Dana Facaros and Michael Pauls are the authors of twenty-six Cadogan Guides covering every corner of Italy. Since they first washed up on Italian shores in 1981, in Catania, they have trudged every town from Ventimiglia to Trapani at least once or twice.
Facaros and Pauls raised their two small children in an Umbrian village with one street and two street lights, where all four of them became hopeless food snobs. Eventually, with a tear of regret they moved on to France, a land where you can't even get the proper 00 flour to make pasta.
Anyway, thank you for downloading the app. We would love to hear any comments or suggestions you might have at dana@facarospauls.com. You can follow us on Facebook and Twitter @facarospauls. At the moment we're working on converting our guide books into apps... Venice Art & Culture, Bologna + Modena Art & Culture, Barcelona Art & Culture and Florence Art & Culture are now out: for more, see facarospauls.com.
And if you like this app please take a moment to review it.